News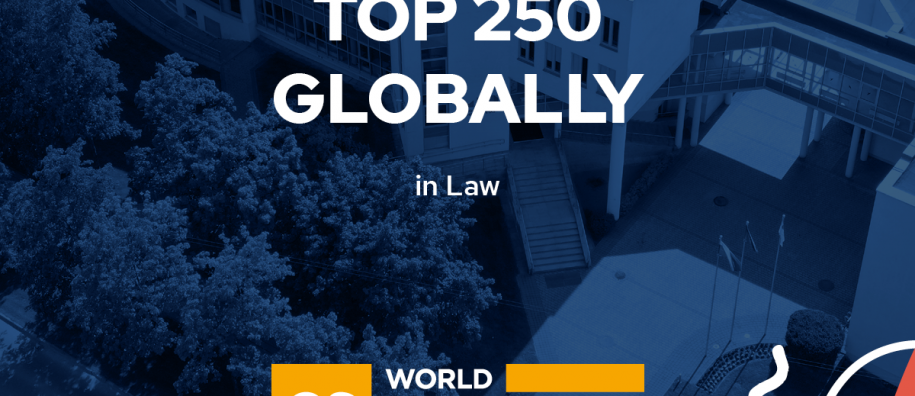 4 March, 2021
MRU Maintains Its Position Among Top 250 Best Universities Globally in Law
Law School
Community
Mykolas Romeris University (MRU) maintains a strong position among the 250 best universities in the world in the field of law, but plans are even more ambitious
On March 4th, the updated global university subject rankings "QS World University Rankings by Subject 2021" were published, in which world universities are ranked according to specific fields of study and science. For the third year in a row, Mykolas Romeris University's Law School, the only one of all Lithuanian higher education institutions in the field of law, is among the best universities in the world, occupying 201-250 positions.
According to MRU Rector Prof. Dr. Inga Žalėnienė, rankings according to specific fields of science and studies, highlight the strengths of each university. "Three years ago, we considered the entry of Mykolas Romeris University's Law School among the best universities in the world as a great evaluation," said MRU Rector Prof. Žalėnienė. "However, the great academic potential and opportunities of the university in the field of law are reflected not only by this ranking, but also in the high positions maintained for many years."
According to Mykolas Romeris Dean of the School of Law Prof. Dr. Lyra Jakulevičienė, international university evaluations emphasize the results of research and the opinion of employers and academic institutions. However, in Lithuania MRU's School of Law is increasingly recognized for its exceptional attention to students, experiential training and individualized law studies, an active partnership with the legal community in mentoring activities and implementation of future legal competencies. "Internationality has always been our defining feature, but it is not an end in itself, but only a means to offer students what is currently the best in legal training," emphasized Prof. Jakulevičienė. According to the Dean, recognition in the international sphere according to results, and not only by name, is useful in attracting foreign students to Lithuania. However, even more so in developing relations between researchers. "Law schools can remain competitive in the international and national sphere, only if all study programs are based on scientific results and meet the needs of the current and future market, help personalities develop, and not just prepare followers of the letter of the law," said MRU Dean Prof. Jakulevičienė.
This year, the MRU School of Law continues to be actively involved in the international studies and research area, and joined an international project. Together with universities in Germany and 7 other European countries, it will develop guidelines for reforming law studies in Europe and improve the teaching competencies of academic personnel in order to strengthen the universal abilities and academic skills of law students. Consultations with the main Lithuanian legal guilds (courts, Bar, prosecutor's office, notary and bailiffs' chamber) will also take place in March with the aim of seeking even better synergies between studies and legal practice.
More about Mykolas Romeris University's Law School:
MRU's School of Law offers classical law and three specialized Law Bachelor's Degree programs, 14 Master's Degree programs, 7 of which are international, implemented together with foreign universities. MRU was the first in Lithuania to accredit and implement 5 LL.M law programs designed to deepen specialized knowledge for practitioners. Each year, MRU's School of Law attracts about 400 law students from Lithuania and about 100 foreign students, mostly from Ukraine. Students have the opportunity to undertake internships and gain employment with more than 100 Law School partners in Lithuania and abroad.