News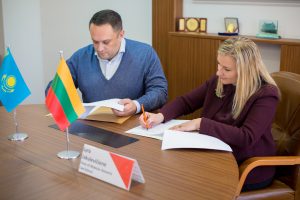 25 November, 2019
MRU Law School Signed MOU with Narxoz University
Law School
University
Studies
November 19th, 2019, Mykolas Romeris University (MRU) Law School Dean Prof. Lyra Jakulevičienė signed a Memorandum of Understanding with Narxoz Law and Public Policy Dean Prof. Stanislav Buyanskiy in Kazakhstan. The agreement is a result of a fruitful dialogue process between the two universities.
Interest in cooperation was initiated a month ago when MRU Rector Prof. Inga Žalėnienė visited Narxoz University.
The schools have decided to partner on a number of mutually attractive initiatives. They range from the development of an academic mobility program for students, to creating joint research programs between research professors from both schools.
Starting next academic year the two Law Schools, will launch a double diploma Master's program for Law graduate students. The aim of the program is to give students the opportunity to study for one academic year in the Lithuanian University.
Partnership with MRU will allow students from Kazachstan to also benefit from Erasmus mobility to partner universities and companies in the EU. Upon graduation, students will be awarded two diplomas. One from the School of Law and Public Policy of Narxoz University, and the second one from Mykolas Romeris University's Law School.
Mykolas Romeris Law School is one of the leading law schools, ranked by QS among the 300 best law schools of the world.
We are looking forward to developing cooperation with Narxoz Law and Public Policy in the area of International and European Business Law as double diploma programs are one of the best opportunities for students to combine national legal education and international experience, said Dean Lyra Jakulevičienė.
"Developing relations between our schools is a great opportunity for our students and scholars to learn more about the European legal tradition and to advance towards a new level of education" said Dean Stanislav Buyanskiy.