News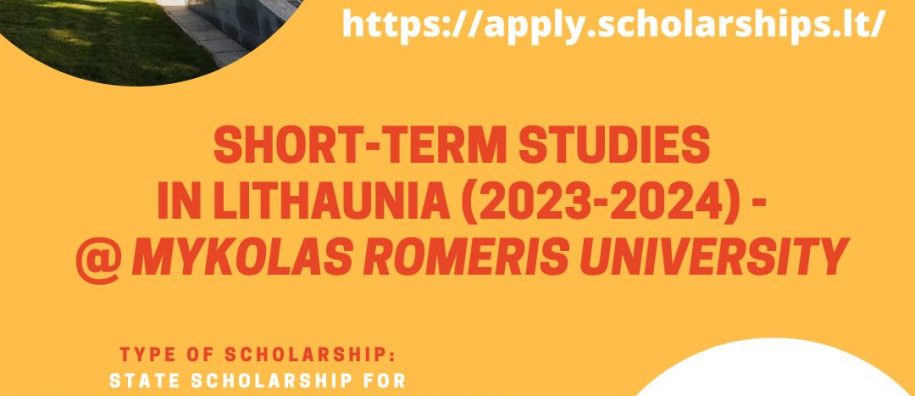 7 March, 2023
MRU Invites Students from Partner Univ for 1-2 Semester Studies: Apply for State Scholarship
Community
Announcements
Mykolas Romeris University (MRU) is pleased to announce that the call for applications for 2023-2024 Lithuanian short-term studies is now OPEN (deadline May 8th, 2023)!
Up to 35 SCHOLARSHIPS for short-term studies in Lithuania offered for candidates who are citizens of the following countries:
• The Eastern Partnership countries: Ukraine, Moldova, Georgia, Azerbaijan, Armenia.
• ASEM countries: Australia, Bangladesh, Brunei, the Philippines, India, Indonesia, Japan, Kazakhstan, Cambodia, China, South Korea, Laos, Malaysia, Mongolia, Myanmar, New Zealand, Pakistan, Singapore, Thailand, Vietnam.
• Lithuania priority export market countries: the USA, Israel, United Arab Emirates, Canada, Turkey, South Africa Republic.
More information here: https://studyin.lt/scholarships/short-term-studies/
Deadline for online application submission (with all required additional documents) is 8th of May, 2023.
An online meeting about studying at Mykolas Romeris University with state scholarship will be held on the 11th of April 14:00 (2 P.M.) Eastern European Summer Time (EEST): https://liedm.zoom.us/j/97368555847
For information on short-term state scholarships for studies at Mykolas Romeris University write: incoming@mruni.eu (Mrs. Paulina Dainiūtė)
Looking forward to welcoming students in 2023/2024 at Mykolas Romeris University!