News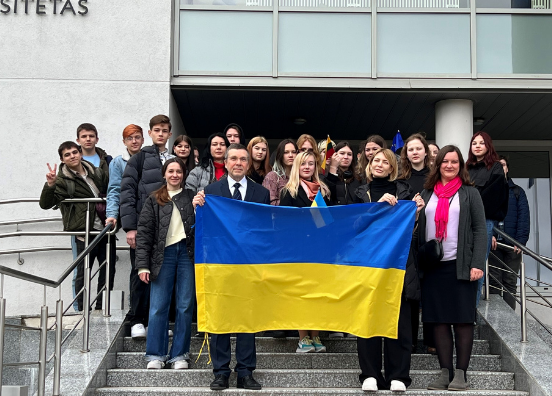 26 April, 2022
Ukrainian War Refugee School with Over 300 Pupils Began Operating at MRU
Community
Announcements
An Ukrainian School catering to the offspring of Ukrainian war refugees has begun operations at Mykolas Romeris University (MRU). Currently there are about 190 Ukrainian pupils studying face-to-face (the number is growing) and an additional 125 pupils are studying online remotely.  Among older pupils of 8th-11th classes, who are attending classes on campus at MRU, the total number of pupils is 60.
Younger pupils actively use MRU's sports facilities, the cafeteria and MRU's leafy park. In the MRU Student House there are about 100 Ukrainians that have taken up residence including students, lecturers and their family members - mothers with children. 
During the first weeks of the Ukrainian-Russaian war. several teachers with pupils from Kharkiv came to Lithuania. At MRU's campus they began to teach their pupils according to Ukrainian general education system programmes. When more of these pupils from war-torn Ukraine arrived, the facilities - uniting pupils and teachers from all of Ukraine, became a Ukrainian School.
"In cooperation with other Lithuanian institutions, MRU, the Baltupiai and Fabijoniškes communities, we were able to provide needed help to Ukrainian war refugees who are living nearby," said MRU Rector Prof. Dr. Inga Žalėnienė. 
"We are glad that we can help pupils and teachers to continue their education process on the campus of Mykolas Romeris University and to provide resources as well as care for their needs. The War has brought people and countries together. It has encouraged us to look for innovative solutions that expand all of our hearts," added MRU Rector Žalėnienė.