News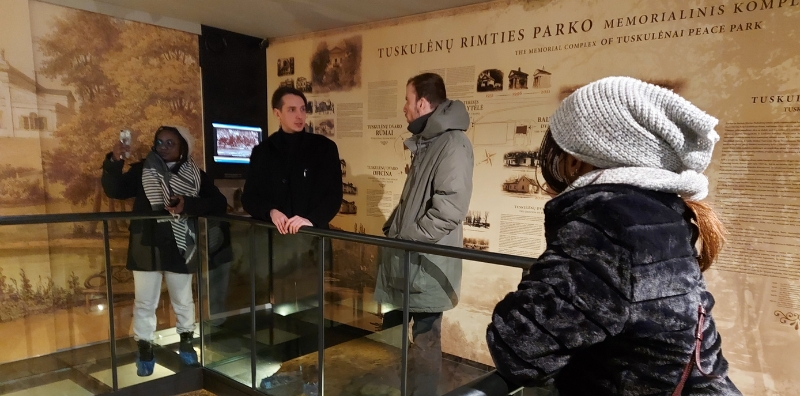 14 February, 2023
MRU Digital PR Students Visited KGB Museum During "Study Visit"
University
Faculty of Human and Social Studies
Events
Visits
February 11-12, 2023, MRU Master's Degree students, led by Mykolas Romeris University Lecturer Dr. Aurelija Juodytė visited The Genocide and Resistance Research Centre (GRRC) of Lithuania, the Memorial Complex of Tuskulėnai Peace Park and The Museum of Occupations and Freedom Fights (KGB Museum). The study visit was to help students understand and prepare for the practical assignment of MRU's Digital Public Relations course. During the course, students will prepare a public relations brief for the departments of GRRC and offer ideas on how to attract more foreign visitors to the museums.
During the visits, some of the issues discussed included how to discover and understand Lithuanians, how to invite other foreigners and how to help them discover and understand Lithuanians. Such seemingly simple questions, but they were considered by students of the Master's study program in Public Relations Management, while visiting exhibitions highlighting the most painful stages of Lithuania's history. Students shared some of their impressions.
For some of the international students, the KGB Museum was one of the saddest and most gloomy places in Vilnius for a visit. Further, if this was their first time in Europe, and they've just arrived in Lithuania only a week ago, it was a further challenge.
"My first impression at the Tuskulėnai Memorial and Occupation of Freedom Fight museum was so scary because of all the persons who were murdered there. It helped me to understand  Lithuanians' experiences under the Soviet regime and learn more about Lithuania. I had studied it in history classes, but it was just lessons then. When I came here and saw it with my own eyes, it reminded me of the history of my country (Rwanda) where we had a Genocide in 1994 and many people died being tortured and being killed in bad ways", said student Peace Esperance Mukanoheli.
She also said she now understands why Lithuanian people are somehow quiet and reserved. It was because they lived secret lives and they didn't have anyone they could trust.
Student Alihan Sevil from Turkey was grateful for the instructive experience. "The visits to museums really left an impression on me. Before coming to Lithuania, I had read information about the history of Lithuania. However, in the museums I saw that the situations of the past are much more complicated than the information on the Internet could reveal. Both museums we visited clearly told us what happened in the past. The exhibits detailed the hard daily life during the occupation and all the evil and the suffering of the people fighting for freedom. There is a saying that I think is important: "Those who forget their past cannot shape their future". Now I know that the people of Lithuania have not forgotten anything they have experienced. They are doing their best not to forget and confidently step into the future," said the Turkish student.
His thoughts were repeated by student Eugenie Cynthia Eyana Mouandjo. She said it was a wonderful experience to get to know the history of Lithuania in 2 days. "It is important to travel to learn about people's past in order to better understand who they are and why they are the way they are. What surprised me the most was the discovery of similarities between Lithuania and Cameroon, where I come from. For example, the meanings of the colors of our flags, which are actually similar," said the student.
Students were asked what were the benefits of the study visits. For Eugenie, now that she has acquired a lot of information, it will be easy to participate and offer ideas on how museums can better convey their story. "I think it is important to note that good communication and understanding of different cultures and backgrounds helps to build better relationships", she said. In Alihan's opinion, these museum visits will be important and useful for the assignment he will complete in the course. It gave him an opportunity to get more information, to hear memories, to see evidence of the past. And this will help better understand the situation, discover points of interaction and think about how to communicate them.
Peace Esperance agreed it is good to visit museums because it allows to learn about history. And her purpose will be to make others more aware about what happened in Lithuania. The visits gave her ideas how to make a visit to the museum a more attractive experience, and how the museum team can create the events by using hands-on interactive activities like showing videos. She also noticed many people come into the museum without a guide to explain the history and exhibits. There aren't enough videos in each exhibition room for a complete explanation of what happened.  So international students will have plenty of ideas to discuss with fellow classmates during the assignment.