News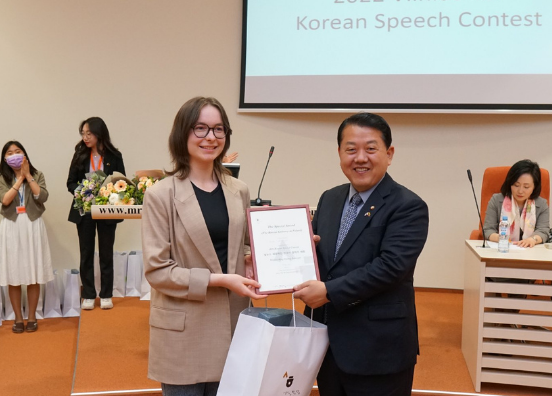 30 May, 2022
Members of National Assembly of the Republic of Korea Visited MRU & Presented Special Korean Language Prize
Events
Visits
May 27th, 2022, members of the National Assembly of the Republic of Korea visited Mykolas Romeris University (MRU) and presented a special Korean Language prize in the annual Korean language competition to 2nd KSI level student Aistė Aškinytė.
The delegation members, including National Assembly representatives Kim Byung Joo, a member of the National Defense Commitee and Democratic Party delegate and Jun, Joo-Hyae, Legislative and Law Committee member and Gender Equality and Family Committee member, attended the annual KSI Korean Language competition ceremony. Winners were awarded invitations from the KSI Fund to travel to Korea for an international studies camp. The guests from Korea were accompanied by Republic of Korea Embassy secretary Jae Woo Lee from Warsaw.
The delegation members also met with MRU International Office Head Audra Dargytė-Burokienė, MRU Adviser to the Rector for International Relations and Communication Violeta Gaižauskaitė,  King Sejong Institute (KSI) Director Dr. Lora Tamošiūnienė, KSI administrator Heejin Kang, MRU Faculty of Human and Social Studies Vice-Dean Prof. Dr. Linas Selmistraitis and Public Governance and Business Faculty Lecturer Dr. Jusif Seiranov.
The National Assembly delegates awarded a special prize to KSI 2nd yr. language student Aistė Aškinytė, who received a favourable evaluation during a voting aession.
The KSI has been operating at MRU since 2014. During the spring 2022 semester there were 250 students who registered for language courses. The Korean language courses are held for the 8th year in a row. During the pandemic - in 2020 and 2021 language course winners received valuable KSI Fund prizes.
This is the 2nd visit of the National Assembly delegation to MRU. The first visit occurred on July 28th, 2021. Then delegates were accompanied by South Korean Ambassador Mira Sun. During the visit, there was discussion of planned events to mark the 30th anniversary of  diplomatic ties between the Republic of Lithuania and the Republic of Korea.