News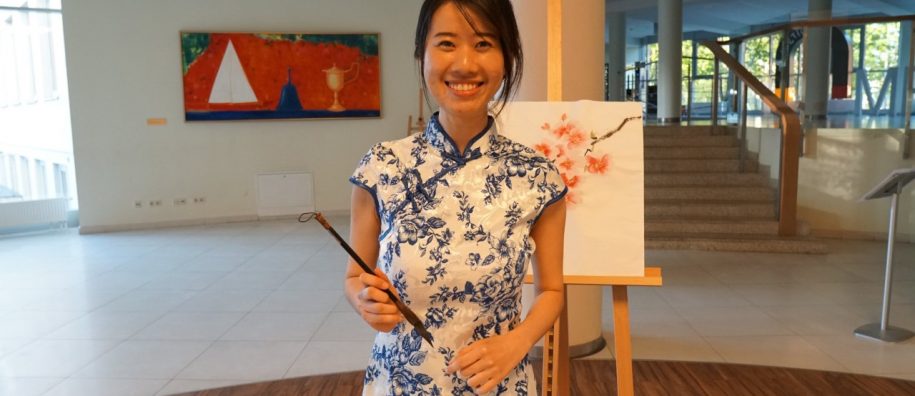 19 May, 2022
Malaysian Student Annie Pooi Hang Wong Opened Chinese Ink Exhibition @ MRU
Community
Events
Art Exhibition
Mykolas Romeris University (MRU) exchange student Annie Pooi Hang Wong from Malaysia is savouring European culture, appreciating the art galleries and museums in Vilnius and studying towards her Master's in Management. She is at MRU Vilnius for a semester. During her life, she has worn different hats including that of an events planner, translator and journalist. In her free hours, she finds time to paint using a special Chinese ink painting technique. She agreed to answer a few questions before the opening of her ink painting exhibition at MRU's Rotonda Hall on May 19th.
-Why did you decide to come here?
I came as an exchange student because of the arts. I had studied art in Malaysia. I was interested in art and to see things from an European perspective. Also, there was an opportunity for me to study Business Administration for an exchange semester at Mykolas Romeris University.
-What did you know about Lithuania before coming?
I am a student at the University of Science Malaysia on Penang Island. There was a Lithuanian-born artist, Ernestas Zacharevič living on the Island who was famous for his murals. That was maybe in 2012 or 2013, when I first heard of him and his country, Lithuania. I have since read many articles  about Lithuania, its culture, food and more that I found on the Internet. It inspired me to visit, to  come here and see the city and Lithuania for myself.
-What did you find here that surprised you the most?
The weather. I came in January and there was snow and it was winter. It was snowing. I knew that it would be cold, but I didn't realize it would be that cold. When I arrived in Vilnius, I just had 2 shirts and had to buy warm clothes. Also, I was surprised by the fact that I could find lots of rice at the supermarkets in Vilnius. My mother kept asking me if there was rice in Vilnius.
How about the food, it is very different than what you are used to in Malaysia?
Yes, we eat more rice, fish there. Here I don't eat so much rice, but have found berries, which are expensive in Malaysia and I am eating lots of different berries – strawberries, gooseberries. It's good for our bodies, for our health.
-In your spare time, you participate in different university activities and like to paint?
Yes, MRU offers free Japanese language classes. I am a student of Japanese and have learned quite a bit over the last semester. My other activity is painting. Over the last 10 years I have taken an interest in Chinese ink painting. It is difficult and I am still learning. I paint on very thin rice paper. I have already painted some new paintings here in Lithuania and they will be on display at Mykolas Romeris University from May 19th. I have already painted a red squirrel that is an endangered species and sakuras, which were blooming in Vilnius and near MRU's LAB building earlier this month.
-What are your plans for the future? When I complete my Master's Degree at the University of Science Malaysia, I would like to pursue a PhD. Maybe I will continue studies in Europe, I am not sure yet. I will see if it is possible to apply and study for a PhD in Europe.
(The exhibition will be on display in MRU's Rotunda Hall until June 5th, 2022).
(photos courtesy of Karolina Zakarauskaitė)