News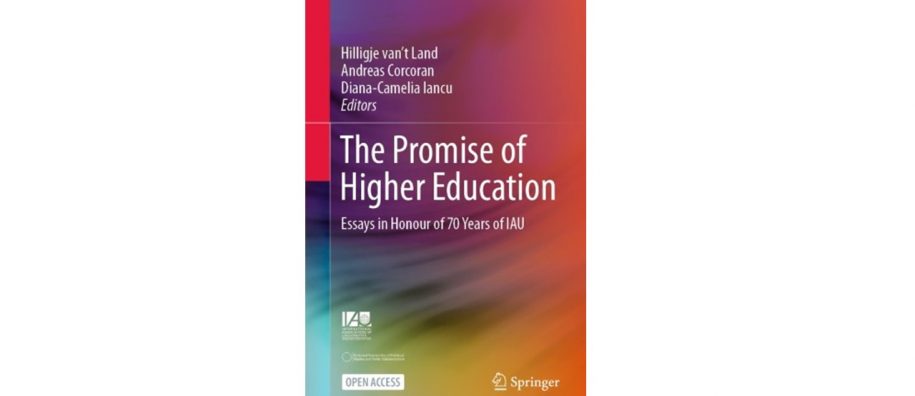 12 November, 2021
Lithuania's Universities and Higher Ed Presented in International Prestigious Publication
University
Community
The International Association of Universities (IAU), which unites as many as 640 members, has published a commemorative publication titled, "The Promise of Higher Education - Essays in Honour of 70 Years of IAU." This publication sets out guidelines for value activities for universities in the face of the new situation facing the country and the world in the face of the COVID-19 pandemic. Mykolas Romeris University (MRU) representatives presented the achievements and challenges of Lithuanian higher education in the book. The book, published by the prestigious "Springer" publishing house, is also available in open access, from which more than 150,000 readers from around the world have already downloaded it.
In the IAU publication, the article "The Changing Role of Universities in Lithuanian Society"  was prepared by MRU Vice-Rector Assoc. Prof. Saulius Spurga along with MRU Rector Prof. Inga Žalėnienė. This article details the achievements of Lithuanian higher education, and the significance of Lithuanian universities and higher education for the development of democracy, social and economic progress of the newly restored Lithuanian state.
The authors from Lithuania assessed the problem of higher education massification, described the features of the higher education reform and stated that the country's universities, which are equal to the highest global standards of science and academic ethics, significantly contributed to the progress of the state.
For more than 70 years, the IAU has been an actively working expert center of expertise in higher education, contributing to the implementation of UNESCO and United Nations higher education agendas and disseminating good practice through its network of partners and maintaining international dialogue in the global higher education area. The IAU brings together more than 640 university and national university rector conferences from more than 120 countries. MRU has been involved in the activities of this organization since 2004. MRU Rector Prof. Žalėnienė was elected a member of the IAU Board in 2016.
Participation in IAU activities provides MRU with new opportunities to develop contacts, gain international experience and present the potential of Lithuanian higher education to the world. By actively developing partnerships with foreign universities, MRU is implementing an international initiative aimed at becoming a leading university of social sciences in Lithuania and the region.