News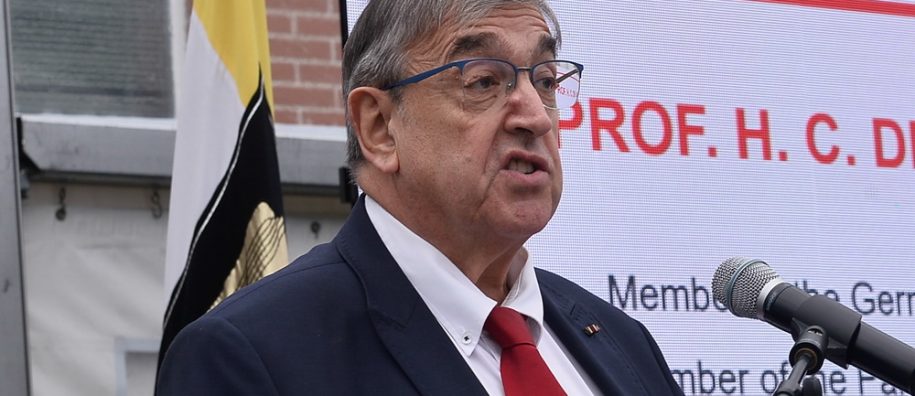 1 September, 2020
Lamers Peace Prize Winners Announced
Faculty of Human and Social Studies
Events
Sept. 1st, 2020, Science and Knowledge Day festivities at MRU included the announcement and recognition of the winners of the 2020 Dr. Karl A. Lamers Peace Prize Contest. First Prize and 1000 Euros went to Kipras Adomaitis, MA student of International Law. Second prize and 600 Euros was awarded to Eglė Juozėnaitė, MA student of Public Relations management. Third Prize and 400 Euros was awarded to Rimvydas Pekauskas, MA student of European and International Business Law.
The Peace Prize certificates to the winners were presented personally by Prof. h.c. Dr. Karl A. Lamers, member of the German Bundestag, and MRU Rector Prof. Dr. Inga Žalėnienė. In the congratulatory speech Karl A. Lamers noted that MRU is very successful meeting the challenge of the COVID-19 pandemic. He also reflected on events in Belarus and expressed his support for the Lithuanian effort to help the Belarus opposition. Karl A. Lamers warmly commended the August 23rd human chain from Vilnius to the Belarus border which, in his view, served as a proper expression of solidarity with the Belarus people. He said he supports the Belarus fight for freedom now very much like thirty years ago he supported the freedom fight of Baltic nations.
In 2018, Karl A. Lamers initiated the Peace Foundation that carries his name. The Foundation sponsors contests of university student essays on security and defence issues in different EU countries. In Lithuania the contest took place at MRU for the second year in a row. The topic of the contest this year was: In 2020, NATO is facing three major challenges: Great Power rivalry, international terrorism and humanitarian crises. Which priorities should the Alliance set from the perspective of the Baltic states?
The 2020 winner Kipras Adomaitis participated for the second time. Last year he was a winner of the second place. Further winners this year are the following MRU students: in fourth place Seyfullah Cezmi Acar, BA Law ; in fifth place Ieva Savilionytė, MA Project Management and in sixth place Elina Morhunova, MA European and International Business Law.
Karl A. Lamers is an influential German politician, a veteran member of the Defence Committee of the Bundestag, former President of the NATO parliamentary assembly. He maintains regular ties with major Lithuanian politicians, who are engaged in security and defence policy making. Yesterday in Vilnius Karl A. Lamers met with Sviatlana Tsikhanouskaya, the presidential candidate of the Belarus opposition, and expressed support for her cause.
Karl A.Lamers is a long-time friend of the MRU, doctor honoris causa and professor honoris cause of the MRU. Every spring he comes to MRU to take part in Dr Lamers NATO Hearings public discussion as a key-note speaker.
Compiled by Assoc. Prof. Dr. Virgis Valentinavičius, coordinator for Karl A. Lamers Peace Prize Contest, Communication Institute