News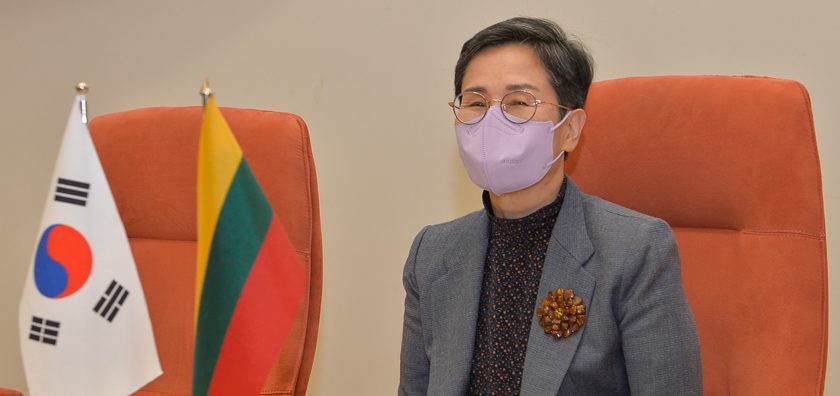 20 October, 2021
Korea's Ambassador Mira Sun Visited MRU Oct. 20th
Community
Events
Lecture
King Sejong Institute
This year marks the 30th anniversary of diplomatic relations between Lithuania and South Korea. To mark this occasion, in October 2021 a South Korean week has been organised in Vilnius with joint events with the Seimas of the Republic of Lithuania, Mykolas Romeris University and the King Sejong Institute Vilnius. During a visit to Lithuania, Korea's Ambassador Mira Sun visited MRU and met with Rector Prof. Inga Žalėnienė.
An Exhibition and Lecture - to Mark the Occasion
October 20th, Ambassador Sun opened a photography exhibition marking 30 years of diplomatic relations between the Republic of Korea and the Republic of Lithuania. It will be on display in MRU's Rotunda Hall (Ateities St. 20, Vilnius) until Nov. 20th.
During her visit, Ambassador Mira Sun presented a lecture, "Korea's Soft Power." She shared her insights with students and the academic community that was connected remotely and listening to the lecture from various institutions of Lithuania. During her lecture, she spoke about the indicators of Korea's soft power, about Korea's achievements in the digital area rating 5th globally, political actions helping to maintain peace in the region and the country's extraordinary achievements in the art field worldwide and the protected cultural heritage.
University International Cooperation with South Korea
Mykolas Romeris University fosters cooperation with the South Korean academic community. In 2014, MRU, together with Dongseo University (South Korea), established the King Sejong Institute Vilnius - the first such Institute in Northern Europe. The goal of this institute was to provide a solid foundation to study and learn Korean language and culture; to deepen knowledge about Korean traditions, philosophy and history; to teach younger generations how to become upright citizens, culturally refined and having the ability to freely operate in a dynamic international atmosphere. From 2021, there are 213 King Sejong institutes established worldwide. They operate in 76 countries. In 2018, the Institute established in Lithuania was recognized as one of the best Korean institutes in the world - it is well-known and valued in South Korea.
Currently there are several unique Bachelor's programmes implemented at MRU including: Translation Editing programme  (Korean language) and the English for Specific Purposes and a Second Foreign Language  (possible to select Korean language). MRU students have the possibility to study Korean language at other universities abroad with which there are signed cooperation agreements: Latvia's University, Poland's Adam Mickiewicz University; the Czech Republic's Palacky University.