News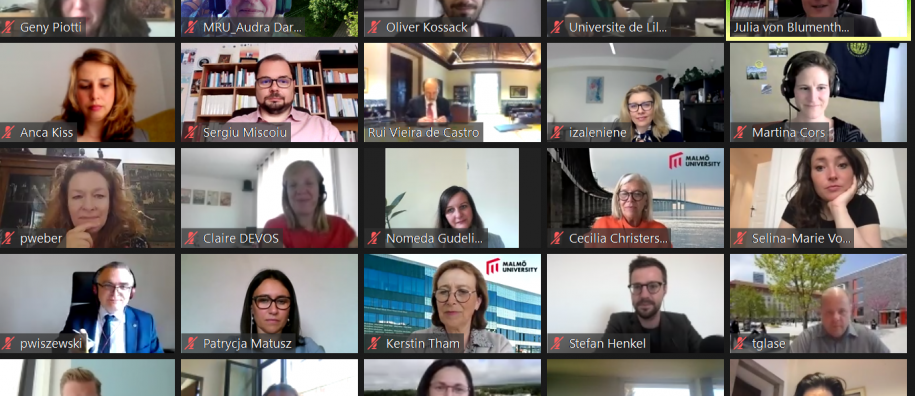 1 June, 2021
MRU Rector Signed "InclusU" International University Network Memorandum June 1st
Community
Events
Meeting
June 1st, 2021, Mykolas Romeris University (MRU) Rector Prof. Inga Žalėnienė signed a Memorandum along with 7 other European university rectors, all part of the "InclusU" network. The Memorandum seeks to encourage further university exchange of good practice conducting research, organizing studies and participating in various social projects. New international University networks allow for universities to expand cooperation not only in the digital sphere, but also globally providing new opportunities for students, academics, lecturers and others affiliated with higher education. The European Commission encourages creation of university networks in Europe.
University rectors agreed to strenghten and encourage a European view towards higher education, to increase mobility of students, researchers and other university staff, to participate in joint events, implement projects that encourage cooperation and internationalization. It is hoped that together universities will seek such cooperation which will help to grow and improve. Each University takes part in research projects and is part of international European projects. These 7 universities, part of the "InclusU" network, unite some 200,000 students and 18,000 lecturers.
The "InclusU" network connects universities through a partnership that has been strengthened participating in joint project proposals. "Erasmus+ European university network proposals have expanded further the bilateral cooperation boundaries and united universities for joint strategic goals and implementation of projects from alternative financing sources - national agencies and other funds, noted Prof. Dr. Pauline Ravinet, . Pauline Ravinet, Lille University Vice-Rector for European Affairs, project coordinator.
"Mykolas Romeris University (MRU) is an international institution that is why this partnership is a great opportunity  to continuously foster an international environment among our students and researchers," said MRU Rector Prof. Žalėnienė June 1st during the signing of the Memorandum remotely.
"InclusU" – is an international network of 7 European universities:  The University of Lille (France), Malmo University (Sweden), the University of Minho (Portugal), University of Wroclaw (Poland), Babeș-Bolyai University (Romania), European University Viadrina (Germany), Mykolas Romeris University (Lithuania).