News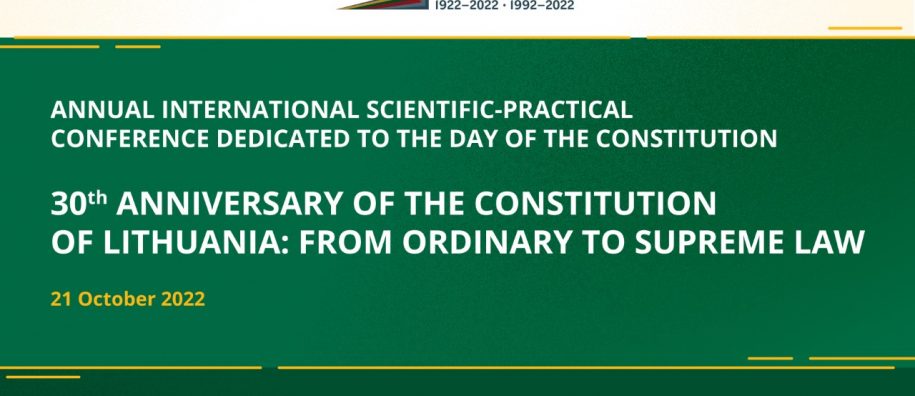 12 October, 2022
International Conference at Seimas to Mark 30th Anniversary of Lithuania's Constitution
Law School
University
Events
Conference
Announcements
October 21st, 2022, 9:00 a.m., an international scientific conference will be held at the Seimas Conference Hall's III Hall, (Gedimino pr. 51) to mark Lithuania's Day of the Constitution.
At the Conference, "30th Anniversary of the Constitution of Lithuania: from Ordinary to Supreme Law," the Welcome addresses will be delivered by: Lithuania's President Gitanas Nausėda, Seimas Chairman Viktorija Čmilytė-Nielsen, and Mykolas Romeris University Rector Prof. Dr. Inga Žalėnienė.
The first presentation, commemorating the jubilee year of the Constitution, will be delivered by President of the Republic of Latvia and  Mykolas Romeris University Honorary Doctor Egils Levits.
Conference participants from Estonia and Poland will present the very latest tendencies in constitutional justice in these countries. The topic of military challenges to the Constitution of Ukraine will be discussed by a speaker from Ukraine. During the Conference, distinguished speakers from Lithuania will talk about trends in constitutional thought, the text of the Constitution and its interpretation tendencies, current challenges and fundamental changes that have taken place over the last three decades.  Special attention will be focused on the issues of the official constitutional doctrine formed by the Constitutional Court, its place in the practice of other courts, as well as the relationship of the Constitution as the highest law, in relation to international law and the law of the European Union (EU).
According to Lithuania's Constitutional Court Chairman and MRU Law School Prof. Danutė Jočienė, the Constitutional Court in implementing constitutional control must guarantee the supremacy of the Constitution of the Republic of Lithuania in the legal system of the country, the constitutional system created on its basis, the protection of stable constitutional democracy, the rule of law and other constitutional values defended by it, but also ensure the proper relationship of international law and EU Law with the provisions of the national Constitution.
The Conference is organized by MRU's Law School, the Seimas of the Republic of Lithuania, the Constitutional Court of Lithuania and the Lithuanian Bar Association.
It will be possible to view the Conference remotely via the "Seimas-tiesiogiai" link and in the "YouTube" platform, "Atviras Seimas".
Conference programme here.