News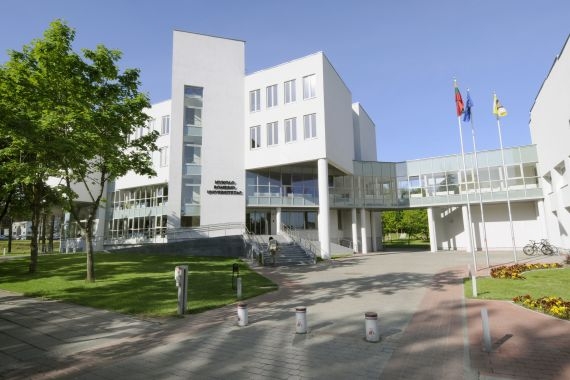 22 April, 2015
High Marks for MRU's Law and Social Technologies Faculties
Law School
Mykolas Romeris University's (MRU) Law and Social Technologies Faculties received a good evaluation from the Research & Higher Education Monitoring and Analysis Centre (MOSTA) during an international research activity comparative analysis study.
MOSTA is an analytical and advisory body founded by the Ministry of Education and Science of the Republic of Lithuania.
The year-long comparative study rated MRU's Law and Social Technologies Faculties with a score of 3 of 5, which is the highest score in Lithuania in the social sciences area.
The Law Faculty "has a very good level of presence in national institutions (political, professional and academic bodies)," the study noted.
"Actually, the Faculty contributes not only to the analysis of the field of law but also to the professional practive of law itself," it was stated.
Most of the academics are at the same time pursuing professional careers, which allows the Law Faculty to retain teaching staff that would otherwise be induced to leave for better salaried work, according to the study.
It also lauded MRU's PhD programme stating that "there is clearly an excellent doctoral training programme." The Faculty thus contributes significantly to the training of lawyers at the highest level and reproduction of legal science in Lithuania, the study stated.
Overall the study concluded that the Law Faculty's young researchers should be encouraged "to open new research opportunities."
The Social Technologies Faculty scored 3 of 5 and evaluators indicated that the Faculty "is already at a good level on an international scale of comparison."
They cited positive factors such as "good quality research with publications in well-respected specialized journals, international coolaboration networks, strong top research management with clear vision, but also important sensitivity to bottom-up research initiatives."
MRU's excellent infrastructure and facilities were also cited as positive factors.
The research was conducted in two stages. In the first stage, which was conducted at the end of 2014, all University Faculties presented a self-analysis and research work.
During the 2nd stage, international experts met with University administration officials and Faculty representatives, Institute researchers and doctoral students. They toured MRU and were closely acquainted with the University's infrastructure.
The international research comparative analysis is widely-used in international practice to improve research activity quality.
In Lithuania, the analysis was administered by MOSTA, a state budgetary institution, which draws up recommendations on the development of national research and higher education systems, performs a monitoring function and analyses the state of Lithuania's research and higher education systems.
The results of this study will be widely used improving the research quality, management and internationalization of Mykolas Romeris University.