News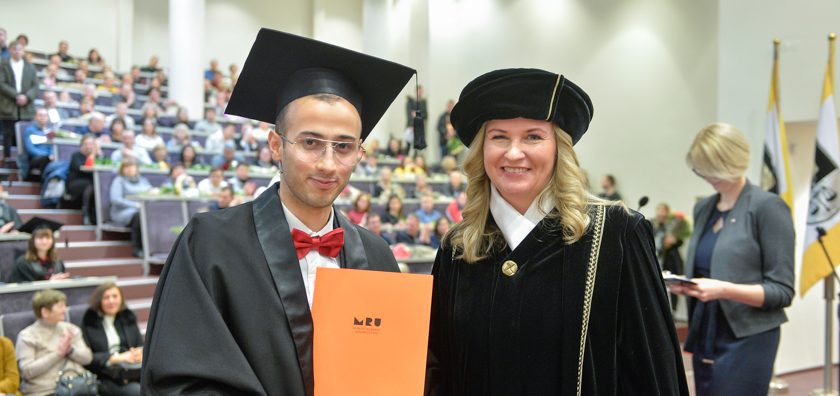 31 January, 2020
Graduation: Diplomas Awarded to MRU Law School Grads
Law School
Studies
Events
Jan. 31st, 2020, Mykolas Romeris University (MRU) Deputy Rector Assoc. Prof. Saulius Spurga School and MRU Law School Dean Prof. Lyra Jakulevičienė awarded 145 Master's and Bachelor's Degree diplomas to graduates. There were 81 Bachelor's Degree diplomas and 64 Master's Degree diplomas awarded during graduation ceremonies.
Lithuania's Prosecutor General Evaldas Pašilis, Supreme Court Justices Prof. Rima Ažubalytė, Supreme Court Justice Assoc. Prof. Dalia Vasarienė, Head of Representation of European Commission in Lithuania Arnoldas Pranckevičius, Special Investigations Unit officials including Personnel Head Henreta Dabriegienė, Customs Dept. Deputy Director Vygantas Paigozinas, Customs Criminal Unit Deputy Director Vitalijus Sarapinas, Lithuania's Highest Administration Court Judge and Lithuania's Judge's Association Chairman Ramūnas Gadliauskas also took part in the ceremony along many other dignitaries and guests.
Some guests, family members, friends of the graduates were left to stand in the back as there were no seats left in the auditorium to accommodate all those wanting to attend the ceremony.
MRU Deputy Rector Assoc. Prof. Spurga addressed graduates and congratulated them wishing them success in their professional life and careers.
MRU Law School Dean Prof. Jakulevičienė addressed graduates encouraging them to continue learning, not to forget their alma mater and wished graduates success in their career paths.
Arnoldas Pranckevičius addressed graduates congratulating them and telling them that indeed it was a special day they will long remember.
Two students from France were recognized with Certificates of Appreciation for their good marks and extracurricular activities. They were European Union Law and Governance programme student Anyssa Fatmi and EU Law and Governance programme student Pauline Lapointe. Both students were in a programme that is implemented together with France's Bordeaux University.
Other graduates of the programme include Sakartvelo students Salome Karalidze and Mariam Oragvelidze.
The following Law Bachelor's Degree students were recognized for their excellent marks and extracurricular activities: Acar Seyfullah Cezmi from Turkey, Evelina Riškevičiūtė and Gabrielė Griškevičiūtė. Master's Degree student Gerda Gapšytė was also recognized.
Graduation ceremonies ended with graduates and guests singing the "Gaudeamus" hymn together.