News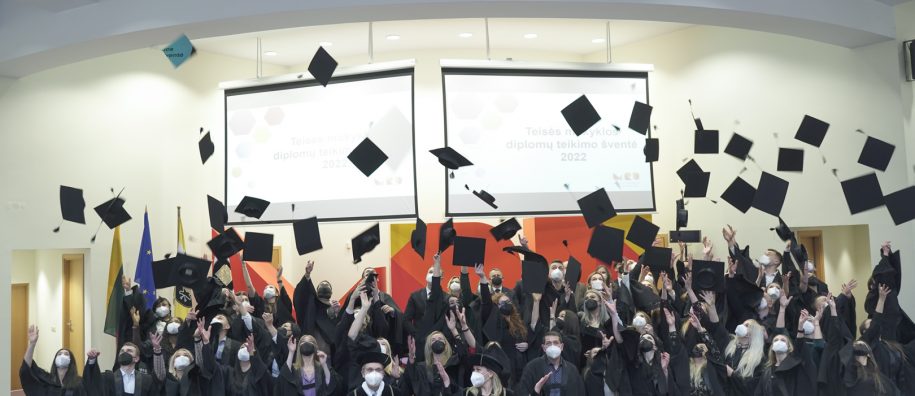 28 January, 2022
Graduation Day: Law School Graduates Awarded Diplomas
Law School
University
Events
Graduation
January 28th, 2022, Mykolas Romeris University's (MRU) Law School Dean Prof. Lyra Jakulevičienė and Deputy Rector Assoc. Prof. Saulius Spurga awarded diplomas to graduates of the Law School. There were 66 graduates that signed up to take part in the ceremony of 90 graduates. It was held on campus, but open only to graduates. Family members and others could watch the ceremony live remotely.
Deputy Rector Assoc. Prof. Saulius Spurga congratulated the graduates saying that they studied in a challenging time - during  a pandemic. He wished them well and encouraged them to remember their alma mater.
Dean Prof. Jakulevičienė told graduates that they are at the beginning of their professional careers having completed Law School. She said despite the pandemic and strict, unyielding lecturers nothing could stop the graduates from completing their law studies. You are winners, the Dean told students in a motivating Commencement Address. She encouraged graduates to choose their own path in life when deciding on their career and professional life.
Guests at the ceremony included: Lithuania's Bar Association Chairman Prof. Ignas Vėgėlė, Constitutional Court Chairman Prof. Danutė Jočienė, Judge Rytis Krasauskas of the Supreme Administrative Court of Lithuania and others.
Judge Krasauskas announced that a Certificate Diploma has been awarded to Lilija Nahorna after her Master's Degree research paper, "COVID-19: Restrictions and Impact on Human Rights" was selected as the best in a competition. Unfortunately, Nahorna was unable to attend the graduation ceremony.
Members of Vitalija Semeniukienė's Singing Studio performed before the start of the ceremony.
Some of the graduates, including Master's Degree International Law graduate Angela Onyinyechi Nwankwere from Nigeria already have jobs and are working. Angela said she is considering pursuing doctoral studies in Law.