News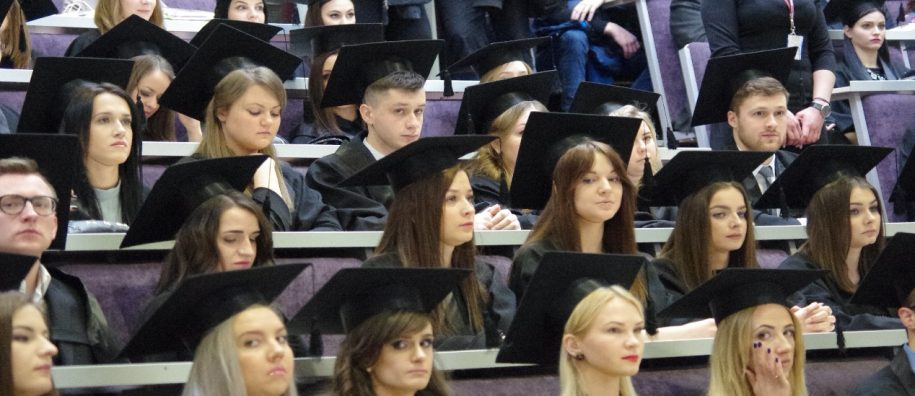 27 January, 2017
Graduation Day at MRU Law Faculty Jan. 27th
Law School
Studies
Jan. 27th, 2017, graduates of Mykolas Romeris University's (MRU) Law Faculty were awarded Bachelor's Degree diplomas during a ceremony on campus. MRU Vice-Rector Dr. Inga Žalėnienė and Law Dean Prof. Lyra Jakulevičienė awarded diplomas to 166 graduates.
They were joined by Seimas Legal Affairs Committee Chairman Julius Sabatauskas and Seimas member Stasys Šedbaras.
Law Faculty Dean Prof. Jakulevičienė told graduates that they are at the end of a "long road."
She told them they had completed the path they set out on and encouraged them to continue Master's Degree studies at MRU.
Seimas Legal Affairs Committee Chairman Julius Sabatauskas congratulated graduates and told them they are now his colleagues. Don't be afraid to make mistakes, he told graduates.
MRU's String Quartet performed a rendition of a Stevie Wonder song, which was greeted with applause.
It was standing room only during the morning graduation ceremony of the Law Faculty. Parents, siblings, friends and relatives packed the auditorium with bouquets of flowers to congratulate graduates.
During the afternoon graduation ceremony, there were 90 Law Master's Degree diplomas awarded. Two Ukrainian students, 22-year-old Anna Bak-Studenikov and Anastasia Dudrina, graduated from the International Law programme. Anna plans to return to Kharkov and to start practicing law there. Top student Gabija Paukštytė was awarded a Leader's red diploma after graduating at the top of her class.