News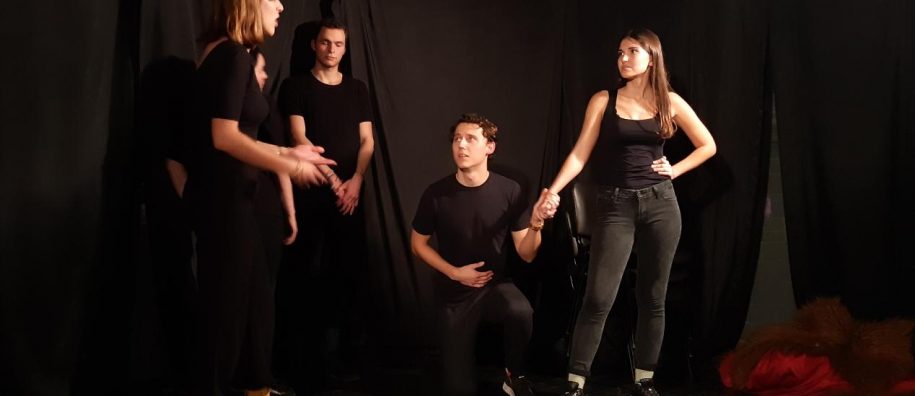 29 November, 2019
Erasmus+ Students Presented Funny Theatrical Performance
Community
Events
Nov. 26th, 2019, Mykolas Romeris University (MRU) Erasmus+ students, calling themselves Hidden Square, held an improvised comedy theatrical show on campus. The show was composed of 6 funny sketches, which led the audience to laugh from the very first moment.
The idea came from Denmark's University of Copenhagen Erasmus+ student Christoffer Ousager. He gathered a group of 7 international students for the performance including: Emma Guizot (France), Olga Paliashchuk (Belarus), Alisiia Nestierova (Ukraine), Viktoria Pushkar (Ukraine), David Lombardo (Italy), and Matthias Knöll (Germany).
The meetings, initially only for fun, began in September, but only in October was there a growing desire to perform in front of an audience.
What is theater improvisation exactly? It's a form of theater where actors do not follow a defined script, but invent the text improvising extemporaneously. The technique involves a degree of interaction with the public commensurate with the technical expertise of the actors.
The real protagonist of the evening was the audience, which was 100% involved in the performance, without which the whole show could not take place.
The actors were brilliant, funny, ironic and dynamic. They had no idea what was going to happen on that stage. There were no scripts written and no scenarios prepared, yet they excellently managed the whole evening.
Bravissimo!
Written by Claudia de Leonardis (Italy), Erasmus+ trainee of MRU International Office