News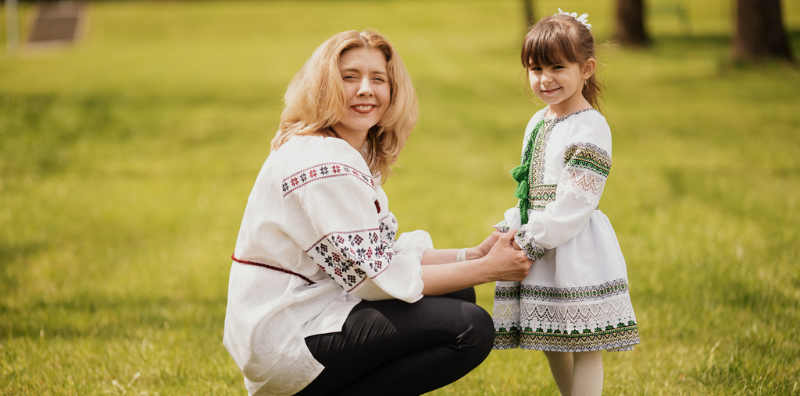 19 May, 2022
Donning the Traditional Vyšivanka, MRU's Rector Wished Ukrainians Peace & Prosperity
Community
Announcements
Every year on the third Thursday in May, Ukrainians and their friends around the world decorate their shirts with traditional patterns and commemorate Vyšivanka Day. This year, the community of Mykolas Romeris University (MRU) is celebrating this occasion together with the Ukrainians under its care.
A Time-tested Partnership
Already in 2014, after the annexation of Crimea, the Ukrainians gathered at MRU in order to acquire the necessary knowledge that would help strengthen Ukraine. At present, Ukrainian citizens whose studies are already disrupted or who are unable to pursue higher education in Ukraine, are offered free studies and temporary financial assistance.
For almost a decade, MRU has been implementing joint programmes and developing partnerships with 26 Ukrainian universities. In order to expand and strengthen cooperation with this country's universities, the Baltic-Ukrainian Center for Studies, Research and Innovation was established in 2018. The activities of the Center contribute to the processes of European integration in Ukraine. Exchanges of lecturers and researchers and research are ongoing. The Center acts as a platform for cooperation in project activities, sharing of knowledge and experience with Ukrainian partners. With the outbreak of Russian military aggression against Ukraine, the Center coordinates the needs of its academic community in Lithuania and acts as a point of contact.
Olga Bodnar-Petrovska, who has moved to Lithuania due to the Russian war against Ukraine, is a former member of the Ukrainian parliament (Verkhovna Rada) and is currently working at the Baltic-Ukrainian Center for Studies, Research and Innovation.
An Extraordinary Day – Solidarity with a Fighting Nation
Vyšivanka is a shirt embroidered with traditional folk patterns. The geometric patterns quilted on the shirts are seen as symbolic amulets that unite and provide the strength so needed in the fight for freedom.
 "The war in Ukraine has clearly shown what happens when freedom, democracy and law are trampled on and the Constitution becomes only empty words," said MRU Rector Prof. Dr. Inga Žalėnienė. By wearing traditional Ukrainian embroidered shirts, we express our solidarity with the people who defend freedom, she said.
Congratulating Ukrainians on the occasion of Vyšivanka Day, the MRU Rector wished peace and prosperity to the creative, talented and courageous Ukrainian nation.
Significant Support Provided
The University has a Ukrainian school for war refugees, which provides pupils with the opportunity to continue the general education process. Currently, there are about 190 pupils in the school (the number is constantly being adjusted), and 125 students are studying remotely. Sixty students in grades 8-11 and older are studying at MRU's campus. The younger grade school pupils use MRU's sports infrastructure, cafeteria and have access to the leafy park.
Ukrainian students are offered a choice of different MRU studies subjects, so that studies do not stop during the war. Students, having completed courses, will later be able to get credit for their studies at their home universities in Ukraine. In addition, Ukrainians are really interested in MRU. So far 139 applications have been received of which 85 - have already submitted applications for admission.
From the fall, since the beginning of the academic year, almost 100 students from Ukraine have been studying at MRU. There are 6 joint and double degree studies programs with universities from this country. About 160 Ukrainians (students, lecturers and their families, mothers with children) live in the MRU Student House.