News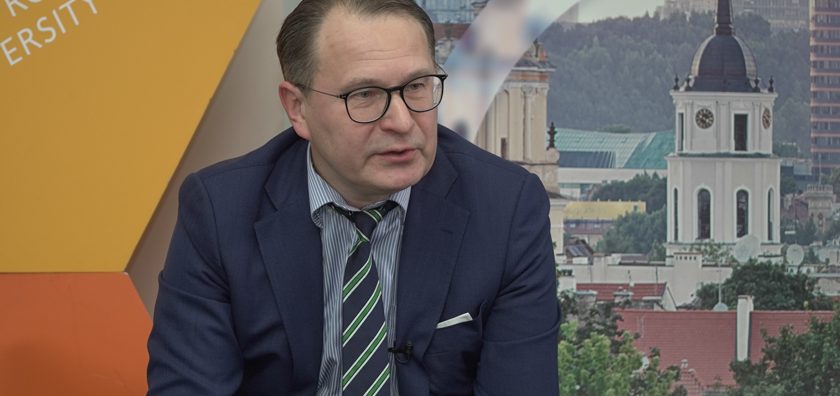 11 October, 2021
Conference, Initiated by Law School: "The Dilemma of Belarusian Constitutional Identity"
Conference
Discussion
Law School
University
Events
October 11th, 2021, an international conference, "The Dilemma of Belarusian Constitutional Identity" was held with discussions to commemorate the Oct. 11th, 1918 Provisional Constitution of the People's Republic of Belarus. The event hosted well-known scholars of law and history, representatives from Belarus, Lithuania, and Poland, drafters of the draft Constitution of a democratic Belarus. It was organized by MRU's School of Law in order to identify the main legal, historical and cultural (linguistic) elements of Belarusian constitutional identity.
The fraudulent presidential elections in Belarus in 2020, which led to the collapse of the country's constitutional order and legal system, awakened Belarusian civil society. Its goal is a democratic Belarus and the rule of law. To this end, a constitution for a new democratic Belarus is being drafted, which should be based on an authentic Belarusian constitutional identity.
Well-known legal and historical scholars, including former Lithuanian Constitutional Court Head Dainius Žalimas, representatives from Lithuania, Belarus and Poland, and drafters of the draft Constitution of a democratic Belarus participated in the discussion. The Rector of Mykolas Romeris University (MRU), Prof. Dr. Inga Žalėnienė delivered the Welcome Address. Belarusian civil society leader Sviatlana Tsikhanouskaya appeared by video. Lithuanian Deputy Minister of Foreign Affairs Mantas Adomėnas, and European Parliament member Andrius Kubilius also addressed participants.
"We are watching with great concern the struggle of the people of neighbouring Belarus for democratic change in their country. The academic community can not be left out when people take responsibility for the future of their country. We hope that the Forum at Mykolas Romeris University will significantly contribute to the conceptual research of the Belarusian constitutional identity, highlight the historical and cultural aspects of the Belarusian constitutional identity ", said Rector Prof. Dr. Inga Žalėnienė.
According to initiator of the International Conference - MRU School of Law Vice-Dean Assoc. Prof. Ingrida Danėlienė, the event united the discourse of lawyers and historians on the topic of constitutional identity. It allowed for sharing the experience that Lithuania has already gained during the last three decades of democracy, which could be useful for researchers and representatives of civil society in our neighbouring country. On the basis of the discussion, there are plans to publish a publication that would encourage further research and provide a theoretical basis for the constitutional and other legislative initiatives of Belarusian civil society, she explained.
The conference was organized within the framework of the Ministry of Foreign Affairs' Development Cooperation and Democracy Support Programme project No. P2021-VB-BA-06 "The Dilemma of Belarusian Constitutional Identity".
The Conference was held on October 11th, 10:00 a.m.-13:30 hrs. at the MRU LAB building and was broadcast here:  http://constitutionalidentity.zoomtv.lt/prisijungimas.
Conference languages – Lithuanian, Russian, English.