News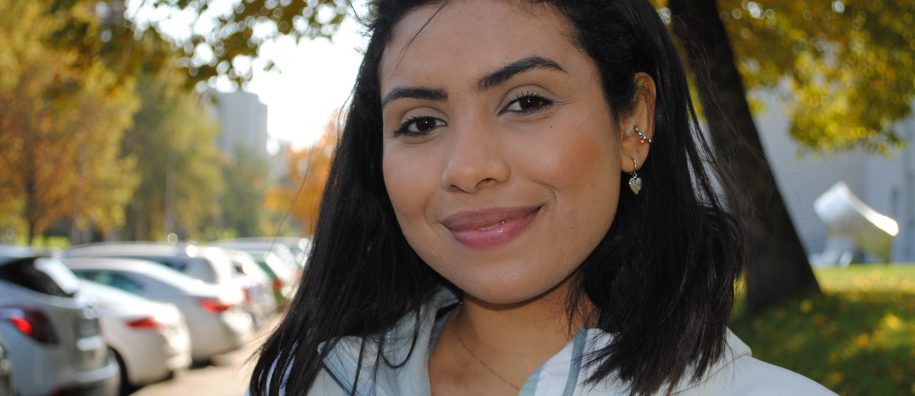 30 September, 2021
Brazilian Student Lauds MRU Joint Master's Social Work Programme
University
Studies
International Students
Community
Erasmus
Mykolas Romeris University (MRU) Master's Degree student Tainna Souza from Sao Paulo, Brazil worked nights and weekends at a hospital and as a passport checker at São Paulo's Airport to pay for her Bachelor's Degree studies in Psychology at Paulista University in Brazil. In addition, she worked on construction sites in various parts of São Paulo to make ends meet. Sometimes, she would arrive for lectures at the University in her construction work clothes because there was no time to change. 'I had to work really hard to make money to pay for my studies," said the 24-year-old student, who is now on scholarship and studying in a joint Master's programme at MRU implemented with 3 other universities: Riga's Stradins University, Catholic University Ružomberok and Portugal's ISCTE. "I had to work. I was always working." Combining studies with work is not easy for any student. However, Tainna's dream to study in a European Master's studies programme came true when she was accepted to the competitive "European Joint Master in Social Work with Children and Youth." 
-How did you decide to come to study in Lithuania? Brazil is a very long way from Lithuania. 
-I was looking online for a programme in Social Work or in the humanities area. I discovered this Master's Degree programme at Mykolas Romeris University and decided to apply. I looked at it and said this is the perfect programme for me. There were many students applying because there was a scholarship with all tuition fees waived. It's a quality programme and allows studies in 4 different countries (Latvia, Portugal, Slovakia and Lithuania) during the duration of the Master's programme. This is a great opportunity for me – not only because I will get a Master's Degree, but due to the scholarship. I would not be here if not for the Erasmus+ scholarship that I have been awarded. 
-What did you know about Lithuania before coming here? 
I had heard about Lithuania in my geography classes. Before arriving I didn't know what to expect. I was happy to be able to get to know a new place, to have new experiences and meet people from all over the world. I had heard that it is cold in Eastern Europe and that people may be cold too. That is not the case with Lithuanians who I found were very warm. Also, the cold was nothing new for me. Before coming to Vilnius, I had spent time in Geneva, Switzerland, so I had already grown accustomed somewhat to cold weather. I have made friends with many of the students, so already I feel very comfortable here. The weather will not be a problem. 
-Did anything surprise you here in Vilnius? 
No, not really. I'm living in the Mykolas Romeris university Student House on campus. I have met many international students, which is great. Although I had lived in Switzerland and worked in Geneva as an au pair prior to coming to Vilnius, during 9 months there I did not meet as many international persons as I did in a week here in Vilnius. This is so amazing! Europe is like the center of the world. Here in Europe you can see and meet people from all over the world – from different ethnic backgrounds. Vilnius and Mykolas Romeris University are the perfect places to meet people from different parts of the world. This is cool. I spent 23 years in Brazil and only interacted with Brazilians. I came here to MRU and meet people from all over the world. 
-But studying here in Vilnius must be different than in Brazil? 
-Yes, there are differences. We have classes taught by lecturers from Slovakia and Latvia (Riga) now and the lecturers are amazing. They have a different way of teaching and presenting course material. Classes are more interactive and more student-centered than in Brazil. You are actually learning here and not just memorizing theory. The focus is on learning. In Brazil everyone talks about examinations and passing, so the way of learning here is different. 
-So you seem to be very adjusted here? 
Yes, I'm in a competitive, but a very attractive Master's Degree programme that I would recommend not only because of the lecturers, but because the classes are very interesting and we learned so much. Next semester we will spend in Riga's Stradins University in Latvia and I'm excited about that. As I mentioned, I have made friends with many of the students and feel happy here. 
-What do you plan to do after graduation? 
I want to work in an international organization like the Red Cross perhaps. We shall see. I still have time. After I work a few years in an organization or a company, I would like to enter University and study for my PhD. For now I need to concentrate on my Master Degree studies.