News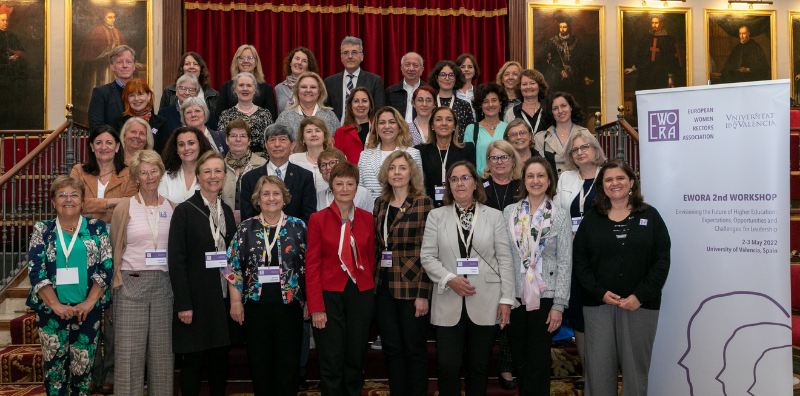 9 May, 2022
At Rector Žalėnienė's Initiative, EWORA Working Group Will Mobilize International Support for Ukrainian Academics & Students
Visits
University
Community
Events
Discussion
 May 2nd-3rd, 2022, Mykolas Romeris University (MRU) Rector Prof. Dr. Inga Žalėnienė participated in the European Women Rector's Association (EWORA) Workshop held at the University of Valencia in Spain. It was titled,  "Envisioning the Future of Higher Education: Expectations, Opportunities and Challenges  for Leadership."
As Chairwoman of the plenary session, MRU Rector Prof. Žalėnienė emphasized that today higher education leaders face a dual mission: to lead while implementing an effective institution-development strategy and together responding to the unprecedented challenges and threats posed by the COVID-19 pandemic, the volatile global geopolitical situation, the influx of refugee flows from war-torn territories and many other problems having an external impact on academic communities.
MRU Rector Prof. Žalėnienė called on EWORA members to pay more attention to supporting Ukrainian academics and students, who are directly affected by the war. She noted that the Ukrainian people are fighting for the future of Europe and the future of the whole democratic world because the values of freedom, the rule of law and human rights are being destroyed.
The experience of 50 years of Soviet occupation helps us to better understand and empathize with the Ukrainian nation, our partners' academic communities who have found themselves involved in War, said the MRU Rector.
At the behest of MRU Rector Prof. Žalėnienė, a working group has been set up to analyze the needs of the affected Ukrainian academics and students and to suggest possible support measures for the EWORA network institutions so that they could provide appropriate support.
The European Women Rectors' Meeting focused on analyzing the changing university environment, emphasizing the goals of gender equality and diversity, inclusion, openness, transparency and social responsibility. One of the issues discussed was the practice of GEP (Gender Equality Plans) applied in European universities, which has already become standard practice. It has been noted that much effort will be needed in order to implement this practice, so that fundamental changes in thinking and behavior in communities takes place.
In order to create and consolidate a fair and sustainable institutional culture, justice and sustainability practices in their daily activities, leaders from different European backgrounds presented the strengths and weaknesses of their institutional activities, shared best practices in GEP implementation and learned from each other.