News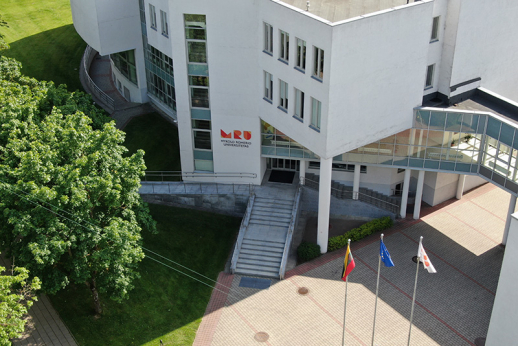 10 August, 2021
Admissions: Almost 5,000 Expressed an Interest to Study at MRU
Community
Lithuania's higher education admissions organizer LAMA BPO announced that 4,705  youth have expressed a desire to study in Mykolas Romeris University (MRU) Bachelor's Degree programmes and 552 have been invited to study at the University. It will be possible to sign an agreement with the University until Friday, August 13th, 2021 remotely online.
Focusing on Quality Studies
This year the Ministry of Education, Science and Sport considerably raised tuition for first cycle studies, especially in the area of social sciences. This impacted choices of future students at all state universities. Although tuition went up, the number of students requesting admission to MRU, compared to last year, was down barely 1 percent. That is one of the best results among all large universities in the country.
MRU Vice-Rector for Academic Affairs Prof. Regina Valutytė also sees advantages in the ongoing changes, as the normative tuition fees applied until this year to pay for the studies of state-funded students only partially covered the real costs of organizing studies The funding per study place was one of the lowest in the OECD (Organization for Economic Cooperation and Development). "The increased normative cost of studies will not only ensure better study conditions for students, but will also create preconditions to attract even stronger lecturers to MRU, strengthen the University's research potential, and increase the quality of studies," said Prof. Valutytė.
However, according to the University's Vice-Rector, the issue of access to higher education is exacerbated by a significant increase in the standard price of non state-funded studies.
"We are seeing a growing problem in accessing higher education for those who do not have the opportunity to pay for their studies. With a significant decline in the number of state-funded places in the social sciences this year, not all graduates have the opportunity to study what they want. For this reason, they are forced to pay for their studies or choose those fields of study in which the state finances a larger number of places, "said Vice-Rector Prof. Valutytė.
The Most Popular Programmes are the Same
As in the previous year, the most popular study programmes among those applying for MRU undergraduate studies remain the same. In the first place - "Law and Criminalistics", in 2nd - "Psychology", in 3rd place - "Law".
Among those applying to study in Master's Degree programmes, - the top three of the most popular programmes have changed slightly compared to the choices of 2020. The most popular study programme was "Leadership and Change Management" overtaking "Criminal Law and Criminology", which is now in third place. In 2nd place is the "Social Work" programme which rose from its 8th position in 2020.
This choice of students is likely influenced by the global pandemic, when the need for social services has increased significantly in recent times. That may explain why the "Social Work" programme, rose from 8th to 2nd place in popularity. It is gratifying that students respond to trends, and that we can offer high-quality studies that best meet not only their needs, but also the needs of the labor market, "said Prof. Valutytė.
According to the Vice-Rector, this year MRU University will welcome more students from abroad. Compared to last year, the total number of applications from foreign students increased by 14 percent. The number of applications from students from abroad wishing to study in Bachelor's Degree programmes increased by 6%, and in Master's Degree programmes was up by as much as 24%.
Mykolas Romeris University – the largest university in Lithuania specializing in social sciences, especially known for its law, public security and public management programmes.  There are about 7500 students studying at the University.