News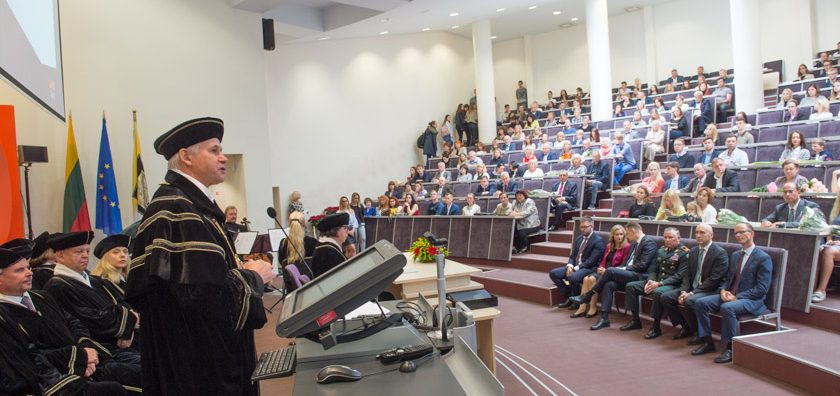 1 September, 2017
Academic Year Began Sept. 1st – Law Prof. Girdenis Recognized as Lecturer-of-the-Year
Law School
Friday, Sept. 1st, 2017, a new academic year began at Mykolas Romeris University (MRU). An extraordinary meeting of the University Senate was held.
MRU Rector Assoc. Prof. Algirdas Monkevičius addressed students, academics, professors as the new academic year begins. He cited statistics indicating that MRU is a leading university in the social innovations area as indicated by international surveys.
Seimas Education and Science Committee Chairman Eugenics Jovaiša addressed MRU's community.
During the extraordinary MRU Senate meeting, doctoral diplomas were awarded to PhD graduates. In addition, affiliated professor and associate professors were recognized.
MRU Student Body President Kamilė Salickaitė addressed participants during the ceremony encouraging them, "don't be afraid to dream."
MRU Law Faculty Lecturer Assoc Prof. Tomas Girdenis was recognized as Lecturer-of-the-Year. Law Faculty Prof. Justinas Žilinskas was also recognized as one of the University's best lecturers.
Law Faculty manager and Dean's assistant Inga Mickevičiūtė was recognized for her untiring work in the Law Faculty.
After the Senate meeting, MRU students recognized lecturers, employees who were the best in their sphere. MRU freshmen were welcomed at the University.