News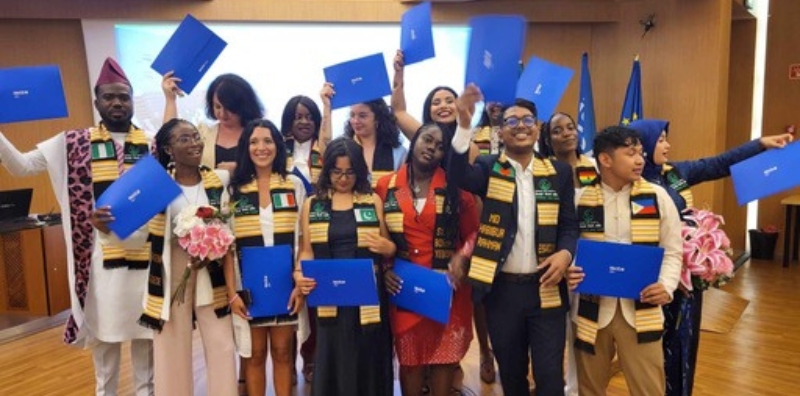 4 August, 2023
Graduates of the 1st Class of ESWOCHY Master's Awarded Diplomas in Portugal
Graduation
University
Faculty of Human and Social Studies
Community
Events
August 2nd, 2023, graduates of the first class of Erasmus Mundus European Joint Master's in Social Work with Children and Youth (ESWOCHY) programme were awarded diplomas during graduation ceremonies at the University of Lisbon-Institute ISCTE (Portugal).
"The awarding of diplomas is always gratifying, but this moment is special," said Mykolas Romeris University (MRU) Vice-Rector for Academic Affairs Prof. Regina Valutytė. "The first class of the Erasmus Mundus programme, "Social Work with Children and Youth", were awarded diplomas. They are talented professionals who have come to study from different continents. I have no doubt, they will be champions of change in the fields of social work and politics, she said. "Lisbon is celebrating with us - with tens of thousands of young people who came here to celebrate the World Youth Day," she added.
MRU, together with its partners: Latvia's Rīga Stradiņš University (RSU); Portugal's Lisbon University Institute (ISCTE) and Slovakia's Catholic University Ružomberok is implementing the European joint Master's Erasmus Mundus programme ESWOCHY from 2020. The total value of the project is 2,434,000 Eur. Every year, this programme attracts great interest with more applicants than spaces available. This year, 26 applicants applied for one place. Only the most advanced students from around the world are selected for the programme, and the project funds provide them with a scholarship, tuition, living and travel expenses. Every semester, students study at a different university of this network. They get to know the culture, social and educational system of that country and have the possibility to make contacts with potential employers. ESWOCHY students are very active. They travel, and engage in various social activities, write scientific research articles and participate in conferences. The ESWOCHY programme brings together not only students, but also lecturers for joint scientific activities: the Master's programme is presented at conferences, symposiums. They submit and publish joint publications and share their best practices. The management and implementation of the programme is jointly shared.  This requires a lot of effort to find commonalities in differences, as well as to combine different educational systems, culture and traditions to achieve common goals.
The ESWOCHY consortium is already halfway through the implementation of the programme. From 2023, the third crop of students will start their studies in September.