News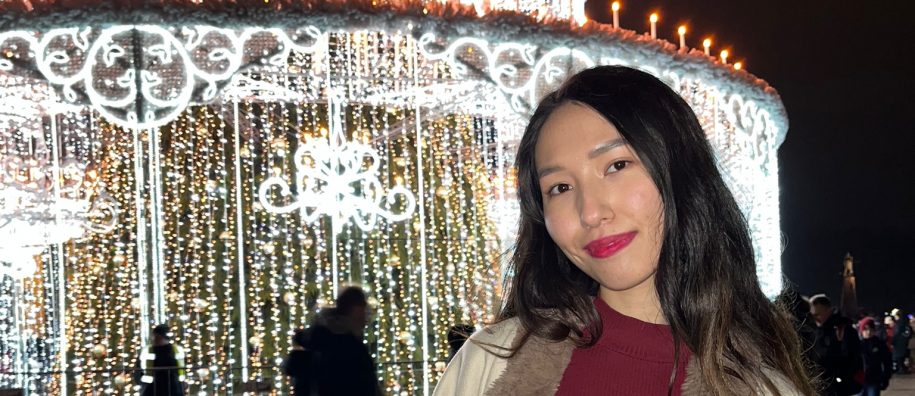 19 January, 2023
State Scholarship Winner Dina from Kazakhstan: Studying Abroad Was My Dream
Law School
University
Studies
International Students
MRUen
State Scholarship winner Dina Abibullayeva from Almaty and Mykolas Romeris University (MRU) exchange student from Kazakhstan was truly overjoyed when she found out that she was chosen as a State Scholarship Holder.
"It felt like the Universe gave me one of the most incredible opportunities in my whole life to pursue my dream of experiencing education abroad," said the exchange student from Narxoz University in Kazakhstan who spent the fall 2022 semester at MRU.
"I have always wanted to study abroad. Therefore, I am delighted that I was able to come as an exchange student to MRU in Vilnius, Lithuania. It is a great country with a rich culture, beautiful nature, delicious food, picturesque architecture, and warm people. I was able to travel and see many exciting places and most of all, I experienced the most wonderful and magical New Year Celebration," said the student.
She said MRU warmly welcomed all international students so that it started to feel like home.
"All my professors were true professionals in their fields and not only intelligent, but also wise, and kind. All the study courses were very engaging and provided really practical, useful, and significant knowledge," she said. "As a Law student, it was very important and helpful for me to study European Union (EU) and International Law courses under the direction of highly-qualified experts. I was even able to attend the Basic Lithuanian Language course, which allowed me to engage and understand Lithuanian culture, history, values, and nation on a deeper level," she added.
She met many wonderful people in Lithuania and many of them became "true friends." She said there is a huge international community at MRU where everybody strives for development, open-mindedness, and cultural enrichment.
"We made a lot of memories that I will cherish for years to come. This experience was truly amazing! I would gladly repeat it, if I could and I would like to recommend to everybody to be courageous and use such opportunities to gain lifelong knowledge, memories, and friends."
She expressed thanks to all who made study abroad at MRU possible including MRU's International Office; the professors; the University and Student House staff; and all of the international students.
"I am incredibly thankful for this Scholarship that was given to me and helped me to pursue my dreams," she said.
-information and photos supplied by MRU's International Office Coordinator Paulina Dainiūtė.