News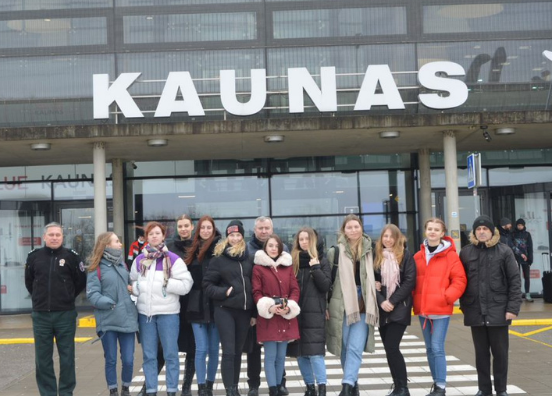 8 March, 2022
Students Visited Kaunas Airport Border Control Post
University
Public Security Academy
Events
Visits
Mykolas Romeris University (MRU) Public Security Academy  Law and Forensic Studies full-time second-year students visited the Kaunas Airport Border Control Post of the State Border Guard Service (SBGS). The border guards working at the airport introduced the students to their activities and the control procedures carried out here.
Students were accompanied by a lecturer from the Institute of Statutory Education of the Academy Vladimiras Andrejevas, who organized this trip and is actively participating in the mentoring programme. He said the visit to the Kaunas Airport Border Checkpoint was intended to acquaint students with the tactical actions applied by officers during control procedures, the specifics of this activity and the organization of work at the checkpoint itself and at border checkpoints.
At the Airport, students were acquainted with the work of the Kaunas Airport Border Control Point (BCP). The premises of the checkpoint were toured, and there was the opportunity to inspect the SBGS equipment used at the airport and deepen their knowledge.
After the visit to the airport, lecturer Andrejevas said that such trips are very much needed by students. They acquire sufficient theoretical knowledge during the lectures, but by visiting the departments, students are acquainted with the practical aspects of the work of the officials. The 2nd-year students themselves considered the trip to Kaunas Airport to be very interesting and useful.